Holiday home in the Loire Valley
Le Grenier in Chevire le Rouge
What could be better than to relax and explore the delights of the Loire Valley from the comfort of an old stone farm house? Set in an exceptional position on the south western edge of the small pretty village of Cheviré le Rouge.
Le Grenier which seems to date back to the 1200's provides both peaceful accommodation and breathtaking views over the valley, fields and forest. Cheviré Le Rouge is unspoilt by commercial development, but big enough to supply hot croissants for breakfast, fresh bread for lunch and patisseries for dinner.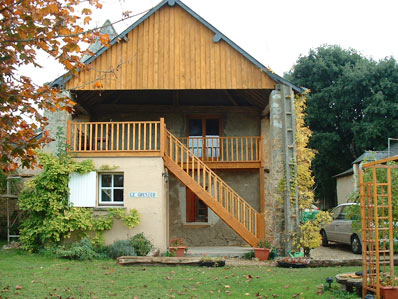 We are ranked in GitesdeFrance.info
The Loire region is now one of the worlds greatest touring areas and is enjoyed by visitors throughout the year. Cheviré le Rouge is in the perfect location for visiting the many chateaux, cathedrals, historic towns and tranquil villages of the Loire region. We are also close to many of the most famous vineyards in the Loire region. Principal areas are Chinon, Bourgeuil, Saumur, Sancerre and Pouilly. In these areas you will see scores of vineyards and caves, offering wine tasting and the opportunity to purchase quality wine at low prices. (more info on Loire Wines can be found on our Loire Valley page on this website). Angers is the home of the Cointreau distillery at
St Barthelemy D Anjou. Also well worth a visit!
Outside of Le Grenier is a quiet road which leads to miles of forest, ideal for cycling, walking or a picnic in the nature reserve. By the entrance to the forest are tennis courts, a lake for fishing and an area for boules. Early in the morning you may see the wild red deer that inhabit the forest. Apart from being a haven of natural beauty, where the air is clean and the surroundings tranquil, it's also not too remote. You may need groceries, a hairdresser and a post office, these too are all within a five minutes walk. By car, you can be in the local town of Baugé where you will find more shops and a large supermarket, or at one of the many local restaurants in as little as 10 minutes.
Here's what some of our previous
guests have said about Le Grenier:
"Le Grenier is everything we expected. We have thoroughly enjoyed our 2 weeks in your lovely French home. You have thought of everything to make your guests feel welcome. Thanks!
Steve and Claire. Tunbridge Wells. July 2017
"we have stayed at Le Grenier in the past and said we would return and here we are. Thank you for allowing us to stay in your lovely French house, it's delightful. Very homely and welcoming unlike many Gites we've stayed in previously. Yes, we will return again."
Charles and Christine. Oxford. June 2017
"a delightful French home in a tranquil part of France. We've really enjoyed our return stay at Le Grenier and will certainly be booking to stay in 2017. All the family enjoy staying here as there is so much to see and do in the area. Thanks again. Mike and Sue. Chelmsford. May 2016
"we stayed at Le Grenier in June 2015 and had a very enjoyable holiday. Le Grenier is delightful...all we could have hoped for. It's an old French house that has been tastefully restored. Graham and Kay the owners have managed to keep all of its French rural charm".
"all 6 of us throughly enjoyed our second return visit to Le Grenier and for sure will book again. A lovely house in rural France with tons of charm. Really enjoy having French doors out onto the balcony and veranda....Had dinner most evenings sat up there....just perfect".
"this wonderful house in the Loire is superbly positioned for visiting this region...We will most certainly be back and would highly recommend Le Grenier to our friends....or perhaps we should keep it to ourselves"
"our third visit to Le Grenier and have enjoyed this lovely house yet again. It's relaxing, well appointed with all the home from home items we all expect....and is in a superb location for visiting the many delights of the Loire Valley. No doult we will be back again"!
"Perfect a real home from home. Stunning views. We ate most of our meals up on the veranda with those stunning views. Many an evening was enjoyed on the veranda...in fact we ate most of our meals up there....Stunning!.
We will most certainly be re-booking next year"
"A beautifully restored home to a very high standard. Congratulations, we would be delighted to return.
The facilities and efficiency of service are a credit to you. A truly professionally run home from home. We hope to meet you all personally someday and look forward to another possible visit".
"Le Grenier is a credit to the owners who have added all those lovely homely touches. Many holiday gites are basic and uncomfortable....this is certainly not the case with Le Grenier. We liked being able to walk to the local boulangerie for our bread and croisants each morning. Thank you for letting us stay in your lovely home".